Bespoke Fabricators of Trespa TopLab BASE Countertops
All Things Trespa specialise in fabricating Trespa worktops to your measurements. We supply Trespa TopLab ​BASE and Trespa TopLab PLUS as full sheets or as fabricated panels cut to size and finished as required. 16mm Trespa BASE is the most commonly used scientific worktop in the UK and is covered by a 10 warranty however typical lifespan is 25+ years.

Examples of what we manufacture with TRESPA:
Fabricate Multiple Metres of Worktop & Upstand

Worktop Jointing (including biscuits and plates)

Finished Edges (2mm chamfer and polish as standard)

Worktop Cut-Outs

Sink Drainer Grooves

Sink Cut-Outs

Countertops

All panels are delivered to site finished and ready for installation. No cutting or carving will be required

To receive a quote either email us your enquiry with a rough sketch to sales@mark-finn.co.uk or call 01535 602141. Speak to the experts today.
​
Benefits of using our service:
Not cutting or carving on site, saving you time on site

Reduces dust and mess (Trespa panels creates a lot of mess when fabricated)

Stops any damage to your tools

Reduce potential mishaps (Trespa is an unforgiving material. Mistakes are tricky to fix on site)
If the requirement is supply only, we will send you installation instructions. Also we are available on the phone if advise is required.
​
Supplied as standard (where required)
Steel Jointing / Levelling Plate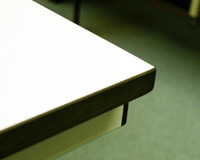 Standard Finished Trespa Edge. Polish & 2mm Chamfer
Complex worktop cut-outs for sinks or machinery
50mm Trespa Upstand
(available on request)
Supplied loose.
There are two type of worktop to choose from:
​
What's the difference?
The simple answer is BASE allows resistance for up to 6 hours for chemical spills. PLUS allows resistance to up 24 hours.
See below for a more in depth overview of each product.
Chemical resistance
Trespa Base (Athlon) has a good resistance to organic solvents such as acetone, toluene, xylene and similar substances. The panel is also resistant to disinfectants and detergents, food juices and dyes. These affect neither the properties nor the appearance of the panel.

Moisture resistance
Trespa Base (Athlon) is not affected by moisture, mold and rot do not occur. Both the surface and the core are made of thermosetting resins, which make them impervious to moisture.

Wear and Tear
The special surface structure and durability of Trespa BASE (Athlon) make it highly scratch resistant. The panel retains its excellent properties for a very long time, even after intensive use. Tests in accordance with EN 438-2/91 prove that Trespa BASE (Athlon) is highly resistant to wear. It is ideal for heavy-duty applications.

Easy to clean
The closed non-porous surface of Trespa BASE (Athlon) does not attract dirt. Trespa BASE (Athlon) panels can be cleaned with either normal cleaning agents or with strong disinfectants because the material is chemically resistant. Graffiti can easily be removed with an organic solvent without danger of affecting the colour.
Trespa TopLab PLUS is much like BASE however is specified where you need a greater resistance to aggressive chemicals, more like 24 hours that the 6 hours BASE affords. It is a self-supporting flat panel with a cellulose fibre reinforced phenolic resin core. Each panel has an integrated, decorative surface based on pigmented, electron beam cured resins which are resistant to the most aggressive chemicals, and easy to clean and maintain.

Manufactured with Trespa's unique Electron Beam Curing (EBC) technology, Trespa® Toplab®PLUS surface is easy to clean and shows a high resistance to a large number of aggressive chemicals. It also has inherent antibacterial properties without the addition of microbial additives. Trespa® Toplab®PLUS panels provide an ideal choice in environments where hygiene, avoidance of contamination, sustainability, ergonomics and safety are of importance. Trespa® Toplab®PLUS is extensively used in a wide variety of lab environments worldwide, including chemical, physical, analytical and microbiological laboratories.
10200+


Completed Projects